Investing in Safety with a Winter Safety Cover
Tips from Our Professionals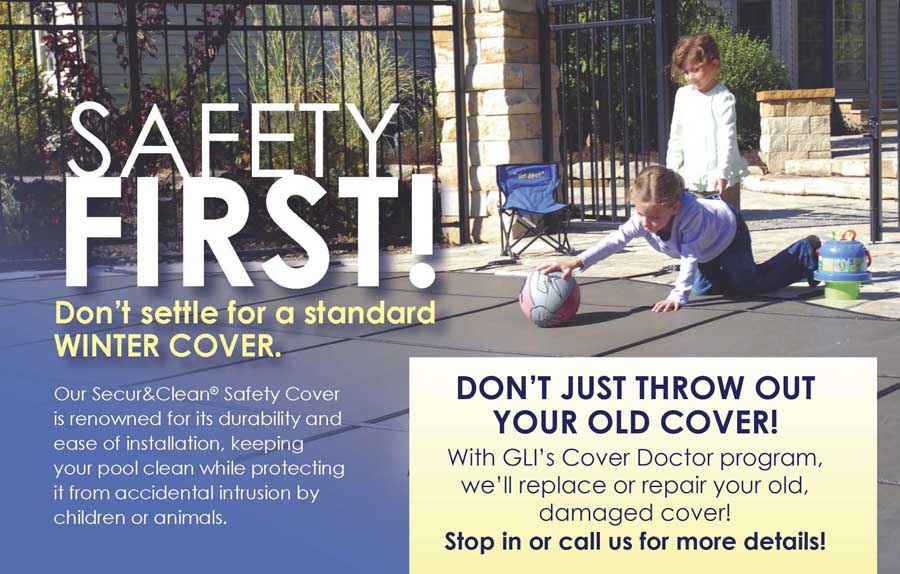 As a pool owner, we hope you agree the top priority is always the safety of your loved ones and pets, and the safety of those around you. While pools certainly present some additional risk, there are things you can do to enhance safety in and around your pool, vastly reducing the chance of accidental injury - or worse - in your pool.

The best way to protect loved ones during cold weather is to close your pool with a winter safety cover. Our winter safety covers will prevent people (and animals) from falling into your pool.

As you likely know, winter often brings a blanket of snow over your pool, making it difficult to see where the edge of the pool is located. A quality winter safety cover will catch a child, adult or animal who steps over the edge and into the pool.

There are a variety of winter safety covers, including automatic, solid and mesh - each of which provides its own benefits. Stop in to talk with one of our experts today to learn which cover option is best for you and your budget.

ALREADY HAVE A COVER?

If you already have a winter safety cover that needs some TLC, talk with our experts about bringing your cover back to life with the Cover Doctor!

______________________________
Using Shock to Maintain Water Chemistry
Tips from Our Professionals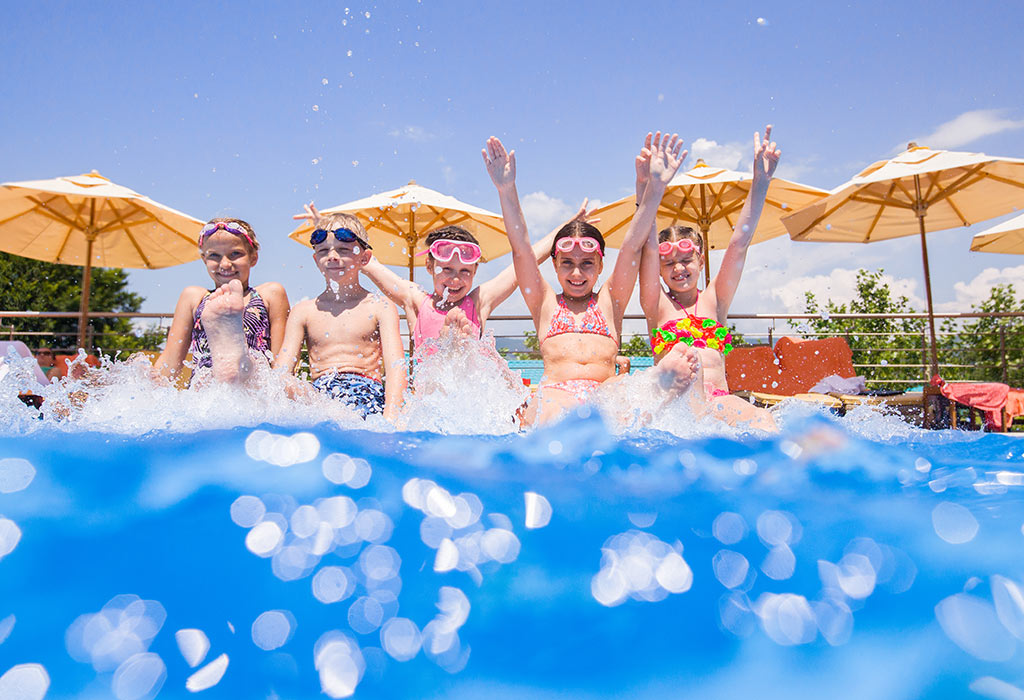 Shock is an imperative part of pool water maintenance, but are you using it as effectively as possible? Before you dive in, take a few minutes to ensure you understand how to best use this product.

WHY
Shock removes chloramine from your pool, which is formed when chlorine attaches to a bacteria molecule. Chlorine kills the bacteria molecule, making your water safer and healthier, but that combined molecule needs to be removed from your pool - which is where shock comes into play.

WHEN
You should shock your pool every week to ensure your pool remains clear and clean. Shocking your pool is especially important after a heavy rain or windstorm and after heavy pool use (such as a pool party). It is also especially important to regularly shock if you have trees or shrubs near your pool.

HOW
• It's best to shock at dusk or nighttime to ensure chlorine isn't burned off by the sun.
• Be sure to wear gloves and eye protection.
• Mix the shock.
Fill a five-gallon bucket ¾ of the way full with water and add 1 pound of shock. Slowly stir the mixture with a wooden stick until it dissolves. Follow the directions on the package to ensure you're using the proper amount.
• Add mixture to pool.
Pour the shock directly from the bucket into the pool, walking around the pool and spreading it out as much as possible. Dip the bucket into the pool to get all remaining shock into the water. Do not add it directly to the skimmer!

Learn about our high-quality pool products. As always, our water chemistry experts are on standby to help guide you on using shock, and to answer any questions you have about your pool water chemistry.


______________________________
How to SAVE on Pool Operating Costs
Tips from Our Professionals
Owning a pool brings joy and entertainment to your home, but it also brings additional expenses. We have put together our expert tips for how to save on your pool operating costs this year to help minimize that overall cost.

Save up to 85% on your pool's energy consumption by investing in a high-efficiency pool motor.

Buy your pool chemicals in bulk so you can take advantage of rebates and coupons - like the ones we include here each week.

Shock your pool every week to prevent a cloudy, green pool - and the added cost it will take to get your pool back to normal with extra shock and running your filter longer. Remember, maintenance is much more cost-effective than water chemistry correction.

Run your pool pump at night. Since the highest electricity consumption is from 7 a.m.-7 p.m., energy companies charge the most for energy consumed during these peak hours.

Use a solar cover to take advantage of the best no-cost heat source: the sun! By trapping the sun's heat in your pool, you'll save energy costs from running your heater.

Learn more with this video from The Pool People expert Jarrod Dodds.
Saving You Time: All About Robotic Cleaners
Tips from Our Professionals
When you think about the joyful moments that come with owning your own pool, you likely don't think about cleaning your pool. But, the reality is that pools must be cleaned to ensure our water is healthy and clear, and to protect our pool equipment.

See the Dolphin M500 in action
The good news is robotic pool cleaners can do the work FOR YOU. You can sit back, kick your feet up and enjoy a cold beverage while a robotic pool cleaner goes to work cleaning your pool.

We often find that customers are surprised at how affordable these robotic cleaners are - especially when you combine our current special and rebate.

Take back your pool time this season - stop in our showroom to see a Dolphin Robotic cleaner in action!




______________________________


CHLORINE 101:
What You Should Know About Sanitizers
Tips From Our Professionals

Sanitizers are an imperative product for pool owners - your water simply would not be safe without sanitizer.

The most commonly used sanitizer for pools is chlorine, largely because it's incredibly effective at keeping water free of bacteria and contaminants, and is also inexpensive.

Here are a few important tips and things to remember:

Quality
Be sure to pick a top-quality chlorine to keep your water as safe and as clear as possible. At The Pool People, we only sell quality products that will prevent headaches and hassle. For example, a lot of big box store tablet products have 5 percent binders or fillers, compared to our products that have just 1 percent (and that small percent is a conditioner that you actually want in your water). These binders and fillers will gum up filters, and will leave your water cloudy and smelling foul.

Timing
To maximize the chlorine you put in your pool be sure to add it after the sun has gone down. Studies have shown that you'll lose about half of your free chlorine within 17 minutes of sun exposure.

Testing Your Water
To ensure your water is properly sanitized and balanced, it's imperative to test your water. See additional information below about how, and how often, to test your water.




______________________________


Protect Swimmers & Your Pool
Keep Algaecide On-Hand This Pool Season!
Tips from Our Professionals

When it comes to maintaining your pool water, algaecide is an important product to keep in your toolkit. Here are some important things to remember:
The longer you wait to treat your water when signs of algae present, the harder it will be to clear your water. Having a quality algaecide on-hand at all times allows you to immediately treat your water, before algae takes over your pool.

A top-quality algaecide will help clear your water without causing the secondary challenges that often come with low-grade products. We've had customers explain their pool as looking like a bubble bath as a result of using a low-grade algaecide. Invest in a top-quality product to prevent more headaches, and to prevent having to buy additional products to get your water chemistry back in balance.

Algae blooms can happen in any pool, anywhere, even if you meticulously care for your pool. Algae can make its way into your pool through wind or can be carried in by swimmers.

If algae goes untreated, it can be dangerous for swimmers and your pool equipment.
Take advantage of our April coupon and be sure you have algaecide on-hand and ready when you open your pool.





______________________________

The Truth About Pool Water Chemistry
Tips from Our Professionals
When it comes to pool chemicals, not all products are created equally.
High-quality products will ...
• Produce clearer, more swimmer-friendly water
• Save you time and money
• Help you protect your backyard investment.

We understand the convenience of one-stop shopping, but when it comes to pool chemicals, buying chemicals from big-box chain stores will likely result in a great deal of pool water chemistry headaches down the road.

Here are just a few of the reasons why you're better off starting with your trusted experts at The Pool People:

Low-grade products contain fillers and binders that are left behind in the water, which can gum up chlorinators, cloud pool water and leave a foul odor. Read how customers have accidentally turned their pools into what they described as bubble baths!

Our trained water chemistry experts can help you pick the right product for your pool water - the first time, saving you time, money and even pool closure. Our experts have the experience and knowledge to make sound recommendations, rather than a general retail store employee who may just be "covering" questions in the seasonal department.

Our products have a higher concentration of active ingredients, so you'll need less.

Quality does matter - your pool and swimmers will thank you! Read More about the real difference in water chemistry products.

Visit our retail store for all of your pool and spa needs, or call our experts at 740-654-4663!
Starting April 1, we'll be sharing the cost of water testing and analysis with our valued customers. Going forward, you will still receive a detailed printout of your water composition, as well as a face-to-face consultation with one of our water chemistry experts to walk through any challenges and step-by-step recommendations. The digital water test and analysis will now cost $3, which helps cover a portion of the cost for each disk. When it comes to water testing, accuracy is imperative, which is why we have invested in our WaterLink Spin Touch photometer - it's the most advanced system available. We want to be sure we can continue providing this value-added service, so we're asking customers to help share the cost of the disks.

It's not just the water testing - it's everything that follows it.
Once your water is tested and your detailed analysis is printed, our water chemistry experts will write out - step by step - everything your pool needs, how long to wait between steps, how to add each product, and much more. Then, our experts will explain everything to you and answer any questions. Because every pool and situation is different, we take the time to write out directions that are customized for you based on decades of experience with pools in Fairfield and surrounding counties.

Why is high-quality digital water analysis so important for your pool chemistry?
Properly testing your pool water will not only keep your water healthy, but it will also save you the time and money of over-treating your water, and using trial and error to add various products to correct challenges.

A home water test is certainly a good way to check your pool's water chemistry in between professional water tests (we recommend doing this a few times a week), but there are a few reasons why the in-depth digital test and analysis should be completed by a water chemistry expert every few weeks, and any time you have water issues.

There are several reasons for this:

A home water test will often measure free chlorine, but our digital process also shows abnormal chlorine usage in a pool, which would indicate the presence of harmful bacteria.

Our digital assessment can test for so much more than a home water test, including calcium, copper, iron and phosphates.

You may not realize it, but phosphates are a big issue for pools in our area because they're in almost every water source. These phosphates pose a serious problem for pools, as they are a food source for algae. Our water chemistry experts have extensive experience in identifying and combatting these phosphates in our area.
POOL SEASON PREP:
Get your poolscape ready for summer!

One of the most effective ways to soften your poolscape is planting a variety of flowers and foliage. Check out this guide from Midwest Living for flowers that will bring beauty to your landscaping while requiring little maintenance.





______________________________

SPRING CLEANING:
Get your pool and patio ready for Spring!
Spring is just a few weeks away, so it's time to start thinking about getting your home ready for outdoor entertaining! Here are just a few tips to get you started on your outdoor spring cleaning.

CLEAN PATIO SURFACE -Regardless of the type of surface of your patio, be sure to give your outdoor living space a good cleaning to freshen it up from winter. Depending on the surface, this may entail power-washing, or scrubbing with soapy water.

REVISIT POOL SUPPLIES - Once you closed your pool last fall, it's likely you shut the door to your pool shed and haven't been back in it since. Now is the perfect time to revisit your pool shed, or the area in which you store pool supplies and products, to go through leftover supplies from last year. Properly discard any chemicals that are past expiration - tip: make a list of the items you throw out to make your pool season shopping easier in the coming weeks.

FRESHEN UP FURNITURE - Give your furniture a good cleaning and make any repairs needed on furniture and cushions. Tips to bring new life to old furniture

PREPARE BEDS & PLAN YOUR PLANTS - Go through your flower beds and planters to weed and get the soil ready for spring plants. Take inventory of what you'll need to purchase in the spring to bring life and color to your flower beds and planters around your property.

DEVELOP A POOL OPENING GAME PLAN - Will you be busy this spring with other projects or day-to-day activities? Get on our pool schedule today and our professionals will do all of the work of opening your pool for you. Or, will you be opening your pool on your own? If so, be sure to develop a list of any questions so you're prepared when you come in to get your pool opening supplies - our experts will be on standby to answer any questions you have to get your pool season started off on the right foot.





______________________________

Getting Your Pool Ready for Spring
Tips from Our Professionals
With cold weather and frozen precipitation, it's hard to believe it's time to start planning for your pool's spring opening. But, as you count down the days to warm, sunny afternoons by the pool, take some time to think through your pool's needs and get any necessary services scheduled before the rush.

Here are some things to consider as you start planning:

VINYL LINER - Is your vinyl liner pool 8-10 years old, or is it showing signs of wear?
If so, you'll likely need a new pool liner. Now is the time to schedule your liner replacement to guarantee it's installed and ready for this spring.
>> Liner replacement schedule today!
UPGRADES - Are you thinking about adding a diving board, slide or LED lights - or upgrading your accessories or equipment? Visit our showroom so your upgrades are ready when your swimmers are.

OPENING - Don't forget that when your grass starts growing, so does your pool! As the weather warms up, algae starts to grow in your pool, so it's important to open your pool before the temperatures get too warm.
>> Schedule your opening before our schedule fills up.
QUALITY PRODUCTS - Before the season ramps up and you're in a rush to get your pool ready, we encourage you to spend time researching chemical products. Every product you put in your pool matters. Learn why quality products will save you money, time and hassle.

Visit our retail store for all of your pool and spa needs, or
call our experts at 740-654-4663!




______________________________

Cold Weather Tips For Your Hot Tub
Tips From Our Professionals
Having a hot tub in your own back yard provides the ultimate relaxation. But, properly caring for your hot tub, especially during colder months, will help limit headaches this winter.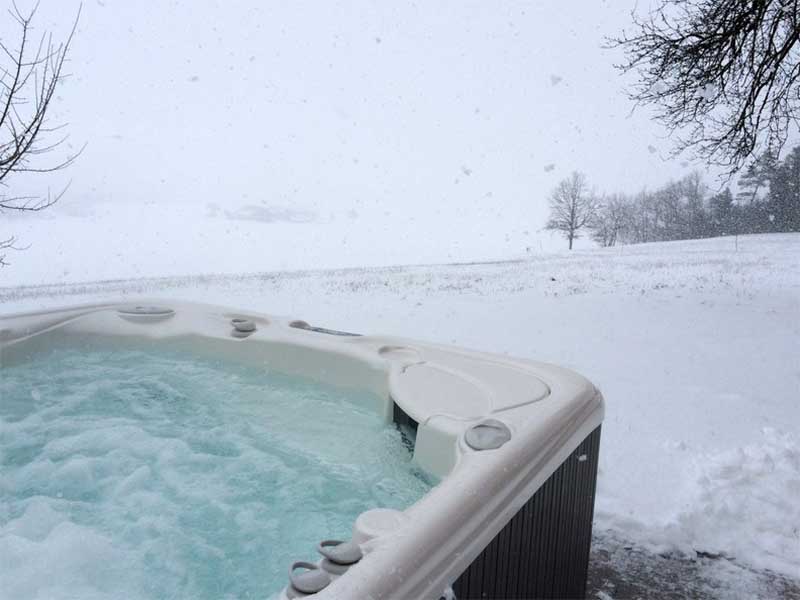 To ensure the best efficiency, and to prevent cold weather damage, follow these tips.

QUALITY COVER - Be sure you have a high-quality cover, as this is the most important way to retain heat. If you want to conserve even more heat, consider a thermal spa blanket, which reduces evaporation up to 95 percent.

CONSISTENT TEMPERATURE - While some may think lowering the temperature while not using their hot tub is a cost-saver, it actually uses more energy and can reduce the life of your spa pump due to extra strain. As an added bonus, maintaining a higher temperature will also protect your hot tub longer in the event of a power outage.

POWER OUTAGE - If a power outage does happen, be sure to keep the cover in place to prevent heat from escaping. If the power is not restored quickly enough to keep the internal temperatures at a safe level, run a generator to bring the temperature back up to a safe level. If you're unable to maintain safe temperatures, you may need to winterize your hot tub - follow these steps from Marquis.

PREVENT FREEZING - Continuously monitor the water level to prevent freezing. Undetected leaks can lower the water level and potentially stop heating and circulation.
Call or visit our retail store today for all of your spa needs!




______________________________